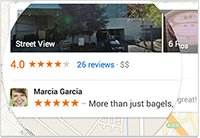 Seems Goog has gone the way of Facebook and is using your name and face in ads and search results shown on their network. A change in Google's Terms of Service now allows them to use your name, photo, ratings and comments from any of their services (g+, youtube, +1s, follows, shares, etc). The idea behind it is that your friends will see your preferences and that will influence their actions. They do say that the only people that will see it are the friends you've chosen to share the content with, but who knows for sure or when that will change.
Here's the short version of the update according to Google:
First, clarifying how your Profile name and photo might appear in Google products (including in reviews, advertising and other commercial contexts).
Second, a reminder to use your mobile devices safely.
Third, details on the importance of keeping your password confidential.
The good news is that you can opt out. Just know that you might see a little message along the lines of "your friends will be less likely to benefit…" blah, blah, blah. I'm sure you're friends won't mind. If you really like that taco shop on the corner, I'm sure you'll tell them personally.
Let's Opt Out!
Most likely you're already logged in to the Goog, so just click this little linky here. Read the page if you want, but do scroll down to the little check box and make sure it is unchecked. Hit save and done. Easy peasy.
I can't think of any reason you would benefit from have your recommendations a likes shown to your friends. In other words, I see no reason to stay opted in, let's take back the web and opt out. Social or not, we still need to maintain some control over the use of ourselves for marketing purposes. Maybe if enough people opt out (yeah, right!), these websites will stop doing this stuff. Let's get some privacy back.